OUR PRODUCTS
Precision Glass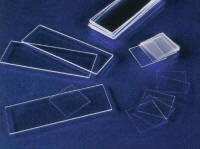 Hausser Scientific stocks a wide variety of types, sizes, and thicknesses of glass.
Along with common Float glass, we also carry a large variety of Borosilicate, Crownglass, Waterwhite, Filter, and Mirrors.
One of our most popular items is thin precision glass commonly known as Microsheet. Microsheet glass is lightweight and flexible with excellent optical properties and is a choice material for micro-displays and substrates. Microsheet is sized according to thickness.
Along with the standard thicknesses listed below, Hausser Scientific can also custom grind and polish any of our glass to the precise thickness (+0.002mm) that you may require.
.

| | | |
| --- | --- | --- |
| Size | Thickness (inches) | Thickness (mm) |
| #00 | 0.0020-0.0033 | 0.05-.008 |
| #0 | 0.0033-0.0051 | 0.08-0.13 |
| #1 | 0.0051-0.0063 | 0.13-0.16 |
| #1 1/2 | 0.0063-0.0075 | 0.16-0.19 |
| #2 | 0.0075-0.0098 | 0.19-0.25 |
| #3 | 0.0098-0.0138 | 0.25-0.35 |
| #4 | 0.0170-0.0250 | 0.43-0.64 |